Menu

Close Menu
ExtremeWireless WiNG
Gain Deeper Visibility, Make Sharper Decisions, Deliver Real Value
These four trends are shaping the future of wireless!
47% of retailers wish they could receive an alert when a loyal customer walks through the door. Learn more about how retailers can make this happen and check out other trends surfacing in the industry!
Alongside Extreme, your wireless network can provide a GREAT experience!
Today's shoppers expect your wireless network to be as outstanding as your products and services. Almost 44% use in-store Wi-Fi to browse a retailer's website, while 64% indicated a willingness to purchase more merchandise with improved customer service. Provide a great experience with Extreme!
ExtremeWireless WiNG Access Points
Extreme's Wireless WiNG access point technology ensures enterprise-level security and high performance for any LAN environment to deliver an exceptional experience for users, wherever they roam.
ExtremeWireless WiNG Controllers
Our ExtremeWireless WiNG Controllers reduce costs and simplify IT efforts by unifying wireless-wired network management using a range of scalable architecture. Improve business process flow with one platform for wireless voice, video, data and multiple RF technologies. Our wireless controllers and switches provide seamless roaming across deployments and resilient fail-over capabilities ― proving our reliability.
ExtremeWireless WiNG Software
ExtremeWireless WiNG Software gives visibility, insight, and management into your network like no other software in the industry. WiNG OS is designed to scale efficienty from the smallest networks to the largest geographically dispersed deployments. With ExtremeWireless NSight platform you can give any role in your IT staff deep visibility in all aspects of your wireless network. Finally, with Azara Cloud Managed Networking, bring the power of WiNG 5 OS to the cloud.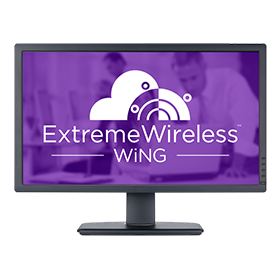 ExtremeWireless WiNG 5 Operating System
WiNG OS
| Data Sheet

Azara Cloud-Managed Networking
WiNG Azara Cloud
| Data Sheet

Extreme NSight
NSight
| Data Sheet
Extreme AirDefense
As wireless LAN deployments increase, so does the challenge to provide these networks with security. Extreme's AirDefense solution provides complete protection against wireless threats and offers policy and compliance monitoring. The system uses collaborative intelligence, with access points/dedicated sensors that work in tandem with a server appliance to monitor all 802.11 (a/b/g/n) wireless traffic. Extreme AirDefense is truly one of the most advanced intrusion detection systems in the networking world.
Contact us for more information.
Contact us today to learn more about how Extreme Networks products and services can help you make better connections. A representative from
Visual Network Solutions LLC
will help you address your networking challenges.
Showcase Content © Extreme Networks 2017. All rights reserved.
Showcase and Syndication technology powered by
Zift Solutions®

http://extremenetworks.sharedvue.net/sharedvue/iframe?sviresizer=extremenetworks.partnerco.net&svunpublished=true&svpage=products_mobility