Menu

Close Menu
Driving the K-12 Digital Classroom
With Advanced Network Infrastructure and Analytics
According to an Extreme Networks survey, personalized learning is the most effective style of teaching. Do you agree?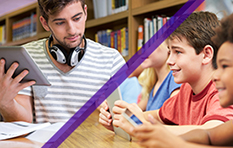 Take a look at how Extreme Networks can help education environments across the globe with this brief education overview video!
Watch
Experience Matters
Chromebooks are Taking on a Growing Role in K-12
Read how Elmbrook School District Worked with Extreme Networks to Implement 1:1 Google Chromebook Initiative.
Read More
London District Catholic Schools
Successful BYOD policy for students and staff to aid modern teaching practices.
Read More
Christ Church Grammar School
Successful iPad initiative at Australian school district.
Watch Now
Contact us for more information.
Contact us today to learn more about how Extreme Networks products and services can help you make better connections. A representative from
Visual Network Solutions LLC
will help you address your networking challenges.
Showcase Content © Extreme Networks 2017. All rights reserved.
Showcase and Syndication technology powered by
Zift Solutions®

http://extremenetworks.sharedvue.net/sharedvue/iframe?sviresizer=extremenetworks.partnerco.net&svunpublished=true&svpage=industry_k12-education